PAST EXHIBITIONS 2015 - 2017
Gay Street Gallery is pleased to announce a special solo exhibition featuring Kevin H. Adams' paintings that began on location in Shenandoah National Park while on summer Residency in 2017. Read more about the artist's residency including published articles, artist's statement and a selection of works, here.
The artist will unveil this body of work and present one piece to the Superintendent of Shenandoah National Park for the Park's permanent collection.
Exhibition Opens Saturday, January 20th - March 20th
Reception with the Artist 4-7p
Beverages and refreshments will be served during the reception.
The Gallery will donate 20% of the sales price to the Shenandoah National Park Trust for all of Kevin's paintings sold on January 20th.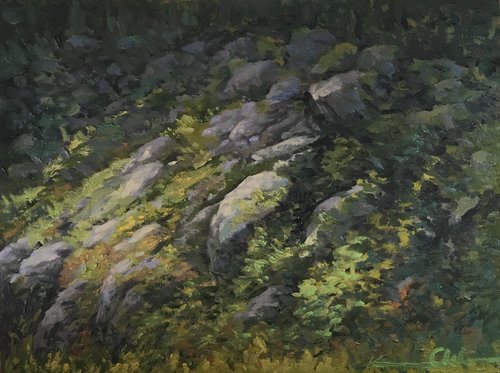 Lee Newman & Robert Bouquet: March 31 - June 11.
Opening Reception: March 31 4 - 7
Winter 2017 exhibition with works by Becky Parrish, Diana Branscombe, Frederick Williamson and Kevin H. Adams.
Fall 2017 exhibition featuring work by Hullihen Williams Moore, Kevin H. Adams and the River District Potters.
Our Summer 2017 Exhibition of works by Ruthie Windsor-Mann, Jan Kirsh and Kevin H. Adams
Spring 2017 exhibition featuring paintings by Matt Klos & Kevin H. Adams with turned wood by Frederick Williamson.
March 25 - June 7th
Winter exhibition featuring sculptures by Jan Heginbotham, prints by Kate Anderson and new paintings by Kevin H. Adams.

January 7 through March 20, 2017.
Fall 2016 exhibition featuring work by Paul X. Rutz, Kevin H. Adams and sculpture by Robert Bouquet.
Opening October 22 and showing through January 2, 2017.
2016 Winter Exhibition
August 20 - October 17
Opening Reception August 20, 4 - 7 PM
Featuring the work of David H. Costello and Jeff Mack
2016 Summer Pop-Up!
August 26th, 27, and 28th

Reception August 26, 4 - 7 PM

Join Gay Street Gallery for a special pop-up show featuring Hullihen Moore, Phyllis Northup, Chris Johns, Kevin H. Adams and Nedra Smith!
2016 Summer Exhibition
June 11 - August 15
Opening Reception June 11, 4 - 7 PM
with wine by Rappahannock Cellars
2016 SPRING EXHIBITION
April 2 - May 18

Opening Reception April 2nd, 4 - 7 PM
2016 WINTER EXHIBITION
January 9 - March 21

Opening Reception January 9th, 4 - 7 PM
2015 FALL EXHIBITION
September 10, 2015 - January 8, 2016